August 7, 2018
850 Views
From being our favourite woollen warmer to an object of class, sophistication and also now seduction, gloves have changed drastically with time. They are recognized as a symbol of sensuality and feminine elegance.
Sheer gloves are the perfect fashion accessories and have been a part of fashion for nearly a thousand years. Infact, they've been around since the beginning of fashion. The 1950s was an incredible decade for fashion, and gloves were particularly stylish and popular. Both nobility and royalty enjoyed wearing gloves that were elaborately embroidered and adorned with jewels. They were a sign of high class and etiquette.
Glamourized by movie stars, Audrey Hepburn and Marilyn Monroe, sheer gloves have a special fascination in the minds of fashion enthusiasts. Gloves have enjoyed popularity ever since the Victorian era. Although they have been used by limited designers, they never went out of fashion completely. They are the most overlooked fashion accessories. Wearing gloves gives an outfit an element of sophistication, like no other accessory. They can enhance your overall looks, give them a royal touch.
Fully accessorize your outfits with the help of our gloves collection. Trust us, nothing completes your outfit like a pair of sheer gloves. They're both incredibly stylish and functional.
Pearlicious tulle gloves:
You can clearly see the craftsmanship that goes into creating these high quality, intricately detailed gloves.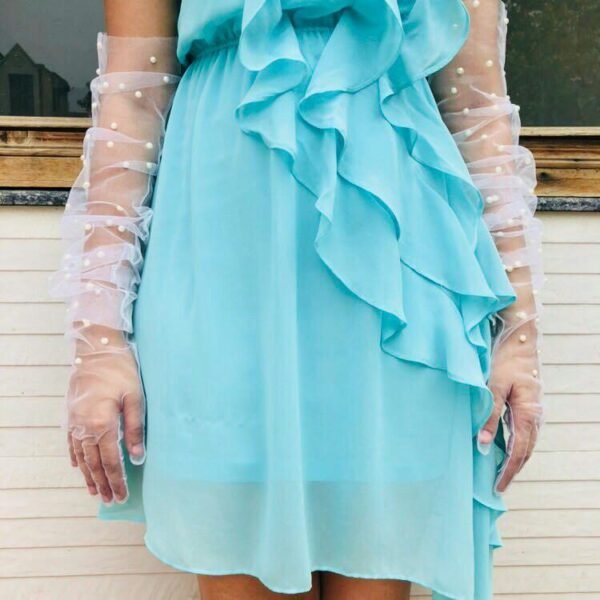 Add a particularly elegant touch to your outfits with these sumptuous tulle gloves. It's dramatic because it's an opera glove, yet it's delicate because of the fine embellishments and detailing.
Pair it with simple and structured gowns, with no embellishments and a pair of strappy heels or pumps, for a retro fashion look.
Silk butterfly gloves:
These dramatic elbow length tulle gloves in white shade add a touch of femininity and character to your look. The silk butterflies embellished on it make this pair of gloves a perfect combination of elegance and extravagance.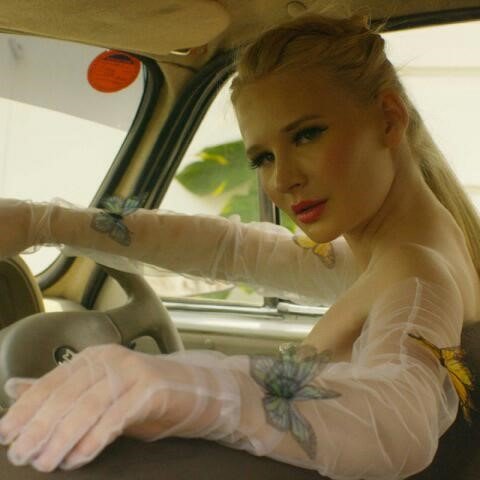 Pairing it with a vintage style dress and, no longer than knee length and a pair of strappy heels, will create a stunning contemporary look.
Victorian asymmetrical gloves (white and red):  
White is such a safe choice, it's easy to style and effortlessly in vogue. Give a twist to your basic wardrobe, pair this with well fitted jeans, overcoat and strappy heels. Also, don't be afraid to step out of your comfort zone and reach out for those rich red gloves. Red is the most alluring hue there ever was. If you like racy stuff, red is the colour for you.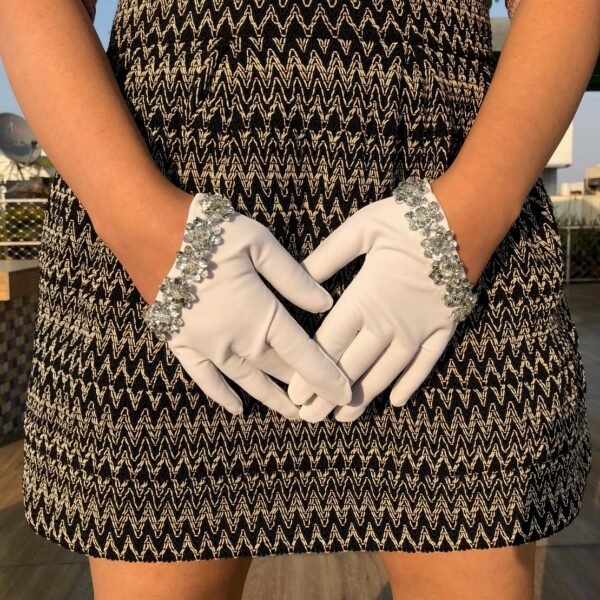 Match the white gloves with your outerwear and it will give you a ravishing finish. For those of you looking to make a statement, pick the bold and bright red statement pair, but try to match it with another accessory for a cohesive look.
The thing that you need to remember when you fuse this mighty Victorian accessory with your modern wear is that confidence is the key. If you wear them thinking that they might look out of place, then let me assure you they most certainly will. But that's the catch, they are meant to look out of the ordinary. Fashion forwards don't do stuff like everyone else, they experiment with looks. They shine brighter and better.