May 22, 2018
701 Views
For everyone who has bought or made a home knows the pain and sweat involved in it. Home is the place you want to rest your mind and body so as to rejuvenate yourself.
Anybody who loves art always wishes to beautify the surrounding with the paintings that inspire or that offer a sense of calmness.
As an art admirer, you can choose from a plethora of artworks that are available on the internet to beautify your home.
You can choose the traditional paintings that still hold the inheritance of Indian culture and diversity. If you want to have a spiritual ambience in your home, there are several paintings of various deities.
In this blog, I am going to jot down the significance of Ganesha paintings in context with decorating your new home's wall space.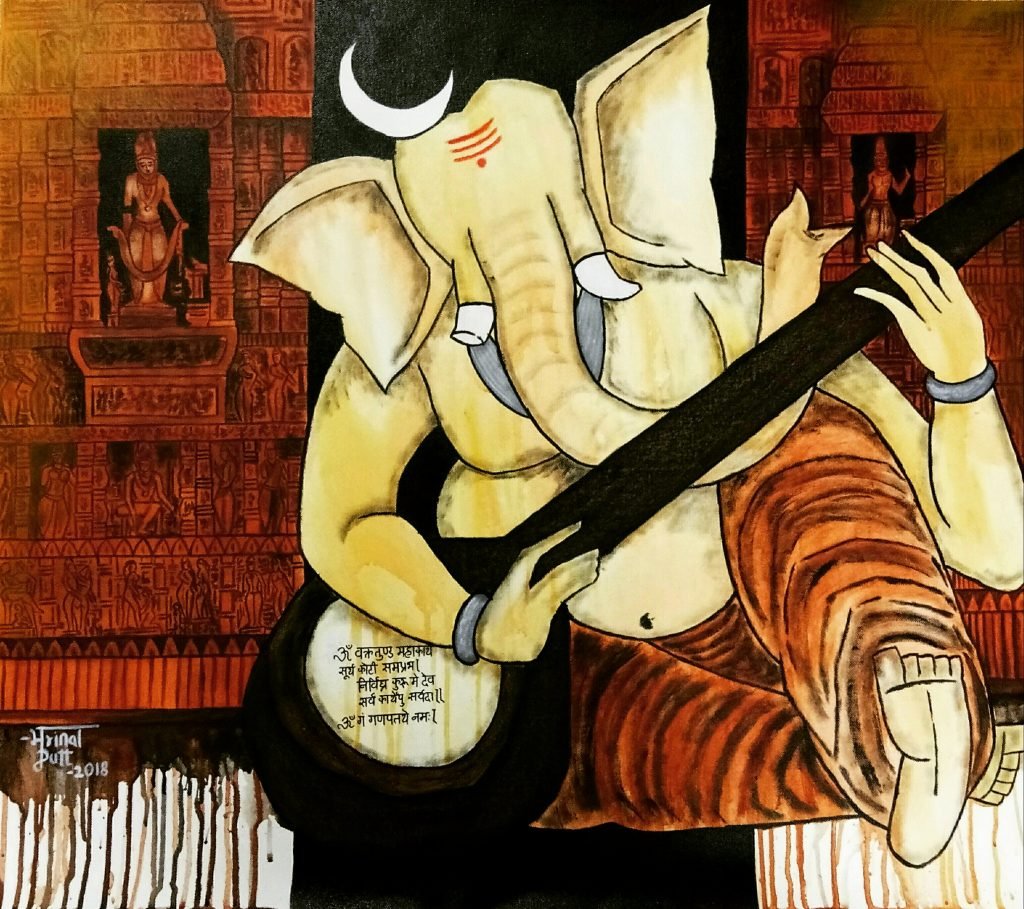 Before we dive into the tips, let's first see how impactful these paintings are.
The story of Ganesha
Ganesha is perhaps the most adorable Hindu deity of all. His cute tummy and pleasant appearance of elephant head have been striking the attention of art lovers.
But, do you know who Ganesha is? Let me give you a brief.
Lord Ganesha was brought into existence by Goddess Parvati using her sandalwood paste. Ganesha was ordered by Parvati to guard the door till the time she is taking bath.
Then, Lord Shiva (husband of Parvati) who was unaware of the existence of Ganesha tried to enter Parvati's chamber but was stopped by Ganesha. A ferocious battle took place between the two and that's when Shiva beheaded Ganesha.
As soon as Parvati came to know about it, she demanded Ganesha back. Shiva, who now understood that Ganesha was only following her mother's order decided to bring him back.
He then put the head of an elephant and embed special powers into Ganesha.
Since that time, Ganesha is a known Hindu God.
The Ganesha Paintings
There is not even an iota of doubt that nothing has been more inspiring for the Indian artists than the religious epics.
Be it Mahabharata or Ramayana, Indian artists have used their best creativity and imagination to bring life to the tales or moments from the religious tales.
In the same context, the paintings of Ganesha are demanded highly in the market. People for different occasions and festivals prefer paintings of Ganesha as an ideal gifting option.
Listed below are the different occasions for which Ganesha paintings are gifted:
Ganesh Chaturthi
Diwali
Birthdays
Baby shower
Inauguration of new business or office
House warming
The symbolic meaning of Ganesha paintings
When you purchase a painting to hang on the wall space of your new home, you do so because you think that the meaning hidden in the artwork complements your expectations.
Like, if you have moved into a new home or are about to do so, hanging an exquisite painting of Lord Ganesha at the entrance or in the hall can offer you a sense of positivity and luck.
Lord Ganesha is known to bring prosperity and happiness to your home and hence, a lot of people tend to hang these in their newly shifted places.
Another instance is like if you want to have a healthy and graceful environment in your bedroom, painting of Ganesha there can offer you the same.
Few of the reflective meaning of Ganesha paintings are:
Ganesha artworks are considered to bring luck to anything new you start.
The eyes of Ganesha is supposed to represent the excellent power of concentration.
The big belly of Ganesha tells us to enjoy everything in life.
The elephant head of Ganesha is known to depict power and strength that lies in mind.
The small mouth tells us to speak less.
The big ears emphasise on listening more.
The axe in one hand reflects that true peace comes from trimming down all ties.
How to utilise Ganesha paintings to decorate your room?
You can always start with the entrance, in front of the main door. As Ganesha is considered to be lucky for anything new, your new home will be blessed with his spiritual essence.
Along with this, the living room and the study are the two places I prefer to hang one astonishing Ganesha painting.
Because Ganesha is known to offer focus, a place where you study or read will be ideal for these paintings.
Few of the people also utilise these artworks in their bedroom. Especially during the pregnancy time, women like to place awe-inspiring Ganesha paintings in front of their bed.
Along with this, people who love art, spiritualism and food also prefer to adorn the wall space of their kitchen.
Just make sure to keep the light factor in the account as you do not want your painting to shine too much or too appear dull.
Also, defer hanging paintings of Ganesha in the corner spaces. Rather any space in the middle of the wall is much better.